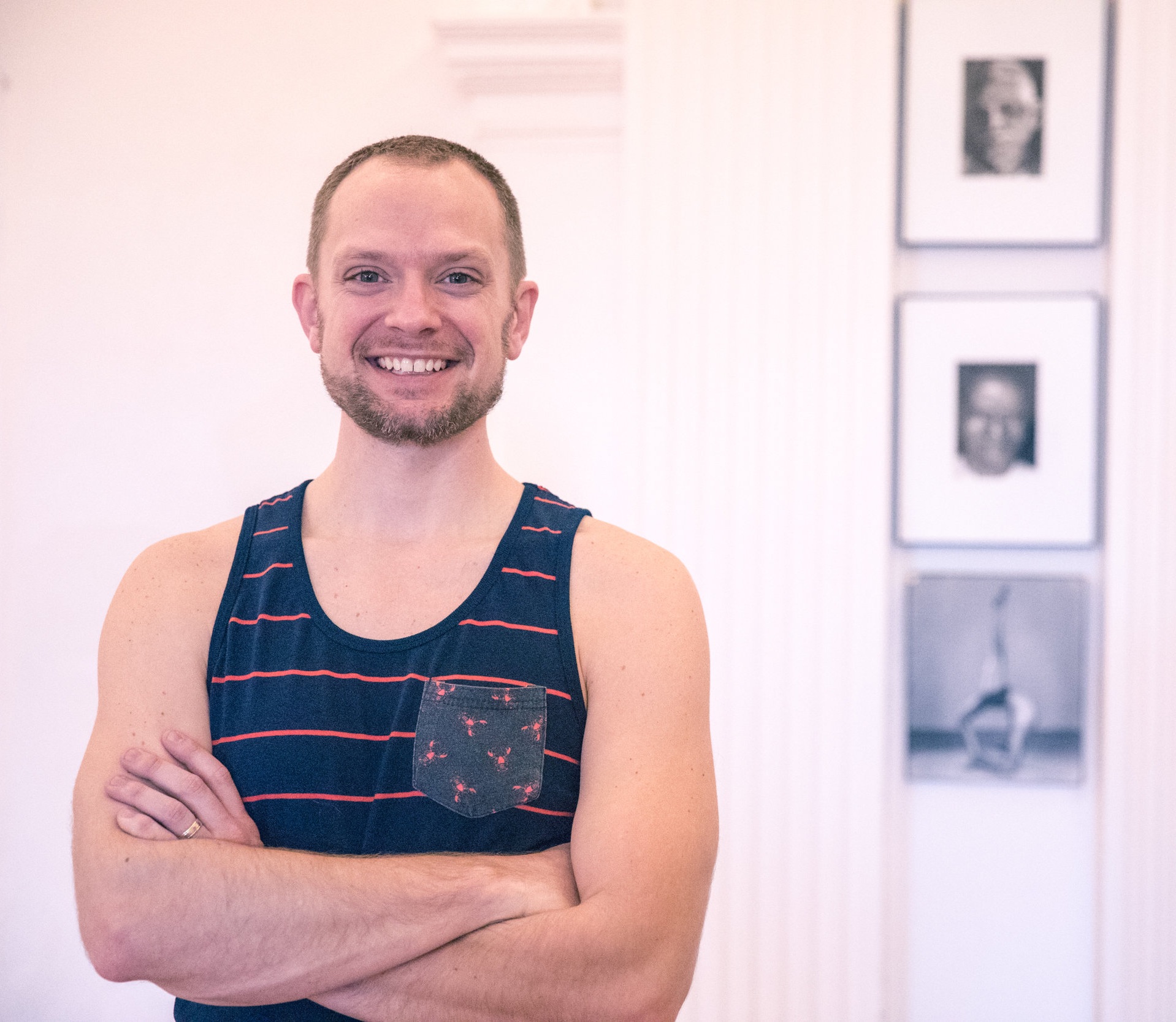 Paul Menard

Director, Yoga Instructor & Shiatsu Practitioner E-RYT 500, YACEP, AOBTA-CP
Paul Menard began studying yoga in 2002 and has maintained a passionate practice ever since. His background in classical dance gives him profound appreciation for the intricacy of the form that yoga affords. His elegance and grace shines though his postures and the execution of his teaching. Paul's pursuit of a more spiritual practice led him to Karuna, where he feels blessed to have found such an open and welcoming community. In addition to yoga, Paul has a fervor for education. He completed his master's degree in Adult Education and Training in early 2011 to complement his career as a workplace learning and development professional. He has completed the 300-hour advanced yoga teacher certification program at Karuna and is seeking other professional credentials as an educator. Paul is excited to connect his love of education and passion for yoga at Karuna.
Eileen Muir
Consulting Director, E-RYT 500, YACEP, IAYT
Eileen Muir began her yoga training in 1969 at the age of 13. Her study of yoga led her to India, China, and Japan. She has been devoted to studying and teaching yoga since 1983 and practiced Vipassana Meditation for over 25 years. In 2004 she began doing Global Awareness Meditation with Adyashanti. Nisargardatta Maharaj and Adyashanti are her teachers. Nisargardatta Maharaj (1897-1981) taught Advaita Vedanta (non-dualism) in Mumbai Bombay, India. She believes Adyashanti is the living embodiment of his teachings.
In addition to being a Yoga Alliance certified teacher, Eileen is also an AOBTA-certified instructor of Shiatsu therapy and she teaches a year-long 200-hour teacher training program and a 300-hour advanced teacher training. Eileen's teaching is infused with the passion and understanding that comes from her commitment to yoga as a spiritual path to relieve suffering. Each class is an exploration into stillness, moving from gross to subtle while gently penetrating the layers of our being. She brings compassion and vitality to her classes along with close attention to every student. A native of Scotland, Eileen also brings a lively Celtic spirit and humor to her teaching.
Tammy Lee Wright
Tammy was first attracted to the Iyengar style of teaching by its methodical approach to the practice of asana and emphasis on the Eight Limbs of Yoga. She was drawn to study at Karuna because of the enthusiasm for teaching, generosity to students, and emphasis on healing by Directors Eileen Muir and Paul Menard. Tammy will complete her 300-hour advanced training with Paul in December, 2018. She studied Art, Peace, and Social Justice at Greenfield Community College and earned a bachelor's degree in Critical Social Thought from Mount Holyoke College, studying the role of the artist in society.Tammy believes wholeheartedly that the creative, transformative, and healing power of yoga for the individual has an inevitable benefit to society and the world. She is grateful for the opportunity to share her love for yoga with others. Tammy's gentle demeanor and deep desire to honor each person's unique path as sadhaka(seeker) infuses her teaching of restorative yoga at Karuna.
Matthew Hammer
Matthew began his practice of yoga in 2006. Initially drawn to the therapeutic and cleansing aspect of asana, Matthew's practice over the years has deepened his appreciation and understanding of the eight limbs of yoga. After a 30-year career in the insurance industry, Matthew has traded in his spreadsheets for sutras, data for downward dogs, and embarked on a deeper study of yoga. He will complete his 200-hour training in October 2018. He is grateful to the many teachers who have influenced his study of yoga: Paul Menard, Eileen Muir, Ed Dailey, and a number of teachers at his hometown studio, Granby Yoga (Granby, CT). Matthew is honored by, and grateful for, the opportunity to teach at Karuna.
Rebeca Allessi
Rebeca Allessi is a graduate of Karuna's 200 Hour and 300 Hour advanced teacher trainings and is certified by Yoga Ed to teach yoga in the schools, grades K – 8. She is currently the Tiered Support Specialist at Jackson Street School where she practices mindfulness, yoga, and meditation with the entire learning community. Before coming to Northampton, she spent 24 years as a classroom teacher, mostly in urban settings. The importance of truth and kindness was revealed each and every day by her hundreds of students. Rebeca is drawn to Karuna as a place where she can experience acceptance, find inner peace, and work towards meaningful growth. She is dedicated to bringing the transformative power of the Eight Limb Path of yoga to people of all ages and abilities.
Susan Yard Harris
Susan Yard Harris is a graduate of the 200- and 300-hour Karuna Yoga Teacher Training Program and studies with Eileen Muir. She is a writer, artist, mother, gardener, and Karuna's editor. Susan has taught Wise Yoga since 2005, and loves sharing the benefits of health, strength, peace, and joy that yoga can bring us as we age.
Jamie Tancredi
Transformed by the study of yoga and the journey into conscious, compassionate heart-­centered living, Jamie is constantly encouraging seekers to look within and awaken their inner vibrancy, and guidance. Devoted to the path of healing, harmony, and vitality, she views this quest into wellness as a profound opportunity to explore and emerge into a deeper union with the body, mind, and spirit. Jamie makes us aware that when we take the time to nurture,and listen to our bodies, we become the conduits of our own healing, in turn maximizing our life's fullest potential. Jamie teaches from the fabric of her own unfolding and exploration. Jamie also loves to share teachings from ancient manuscripts and timeless masters. She seamlessly weaves gems of wisdom into her classes from the Yoga Sutras, Bhagavad Gita,Vedic texts, and other poetic and enlightened thinkers. Jamie is certified by the 500 ­hour teacher training program at Karuna Center for Yoga & Healing Arts. She has a private practice in Northampton, Massachusetts where she joyously shares her services as a private Yoga Instructor, Qi Gong teacher, Holistic Health and Wellness Coach, Detox Specialist, and Thai Yoga Body Worker. She regards her work as a gift and opportunity to assist others by restoring well-­being and simultaneously connecting to their truths. As a student of life Jamie continues to further her education every day.
Darrin Vander Plas
In 2004, Darrin was introduced to yoga and meditation. Over the past 12 years, a hunger for perspective led him to explore a variety of yoga styles and lineages. This search led him to Karuna where he found a patient, mindful and devoted community of yoga practitioners. He has since graduated from the 200-hour teacher training program. He is honored to continue his yoga journey with Karuna, and strives to create classes which are grounded, calm and approachable. Darrin is guided by his previous experiences teaching and sharing the benefits of meditation, mindfulness and yoga with people of all ages and abilities both in the U.S. and abroad, including his recent time serving as a Peace Corps volunteer in The Gambia, West Africa.
Tolly Stark
Tolly considers herself a recovered yoga skeptic. After many years of trying random yoga classes throughout the Pioneer Valley, Tolly stumbled into an Iyengar yoga class and immediately recognized the many benefits it had to offer. She continued regular yoga classes and went on to study at Karuna. During her 200-hour training, she lost any possible skepticism, discovered an affinity for yoga philosophy, and was inspired to share the gift of yoga with others. Following the Iyengar tradition, Tolly's classes are approachable and lighthearted while they at the same time explore how to move beyond individual barriers. Her compassionate and intuitive style creates a deeply fulfilling and safe way for her students to practice yoga while also cultivating their body's natural intelligence and connecting it with mind and spirit.
Tolly is adding to her training with the slow but steady process of studying Sanskrit, Vedic chanting, and yoga philosophy. She is also completing Prenatal PYT 90-hour yoga certification training. She has been a Level 3 Reiki master practitioner since 2006 and has uncovered the natural healing power of food as medicine. When she isn't busy with these disciplines, Tolly can be found sipping tea, hiking, kayaking, or playing with her two lively children. She is also the co-chair and co-founder of Deerfield for Responsible Development, a member of the Outreach and Justice Committee of the Common Share Food Co-op, and an eternal questioner and rebel.
Yasmin Adham
Yasmin has always been interested in personal growth, health, and well-being. Balancing these with a career in engineering, she has pursued many avenues in this quest: years of running, strength and conditioning training, ballroom dance, Pilates, yoga, and a study of nutrition and organic gardening. Her first experience with yoga was a gentle, meditative style with teacher Dean Hudson. After recovering from shoulder surgery and looking for a way to become active again, she came upon Paul Menard and Karuna. She was drawn to the attention to detail and what had eluded her in previous physical pursuits: The quest for wellness took on a deeper meaning of transformation, growth, and a spiritual path to healing and fulfillment. In October 2018 she graduated from 200-hour teacher training and is excited to bring her love of yoga as a practice of body, breath, mind, and spirit to others. She is grateful for the the Karuna community where she continues on the path of healing, growth, and transformation
Our Staff is Growing.
Students that successfully complete the Karuna Teacher Training Program are added to our Team regularly. Stay tuned for updates as they happen!